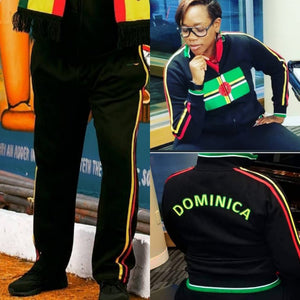 Dominica Sweatsuit (Flag Jacket and Pants)
Regular price $120.00 Sale
Combo Set (Unity Sweatpants and Unity Jacket) (also sold separately)
Enter note if you need varying sizes. 
Matching Set with high quality fleece lined interior with matching country color piping.  CARIBBEAN APPAREL logo embroidered on the sleeve of jacket and left thigh of pants.  Pants feature drawstring elastic waist and regular opening for a relaxed fit.  
CARIBBEAN APPAREL's claim to fame. Luxury quality embroidered flag jackets with applique lettering on the back. The quality of the jacket gives premium warmth and a style unmatched. If you like showing your pride and want it to be known this is the jacket to get! Get READYYYY people will stop you in the street and comment on how great it looks. Wear your pride with style.