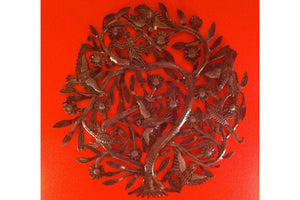 Tree of Life #2: Haitian Metalwork Art
Regular price $100.00 $75.00 Sale
Jean Appolon Expressions (JAE) is a 501(c)(3) non-profit organization based in Boston, MA and Haiti.  JAE's mission is twofold: to enrich local and global communities by preserving and advancing Haitian folkloric dance as one of the world's precious cultural resources; and to develop youth, especially young Haitians without financial resources, as contributing citizens through high quality dance programs. For more information, please visit www.jeanappolonexpressions.org.
Product Description: Haiti is well-known for this style of artwork. This pieces measures approximately 22" in diameter.
NOTE: SHIPPING IS $25.00, Please choose this option upon checkout.